Think Papanui's curator Simon Britten rounds up stories from the past week:
The recently-delayed Main North Road bus priority project might be back on track soon, judging by information shared with Think Papanui by the Council and NZTA.
I shared an update on the process around the Community Board recommendation for traffic lights at the Harewood/Gardiners/Breens intersection. The final decision is expected to be made by the full Council on 12 September.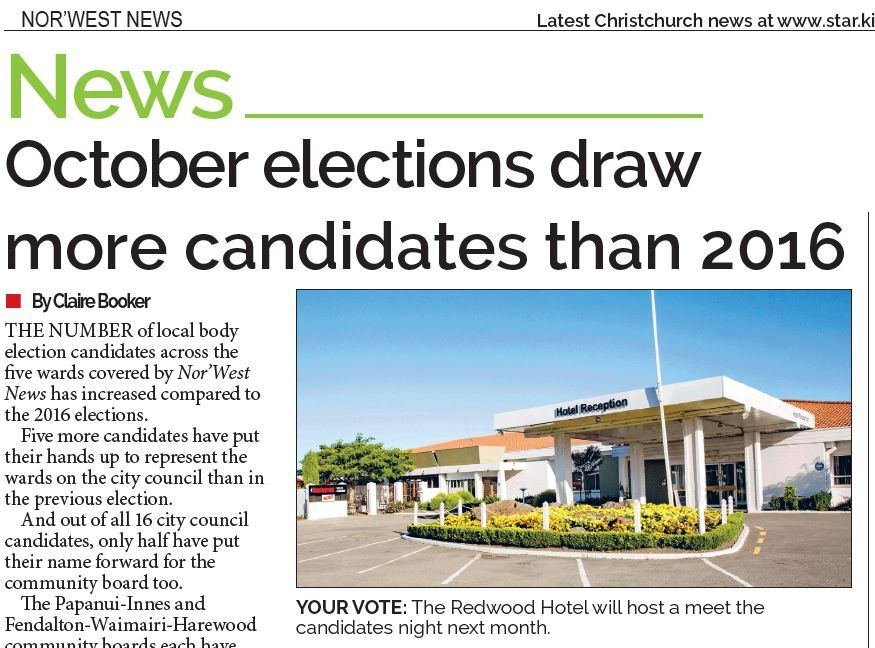 The Nor'West News reported this week on local candidates in the upcoming local body elections.
Top post of the week was my share of an article from The Press on the reworking of the foundations for the Christchurch Northern Corridor overpass at QEII Drive – the extra work is costing "in the millions", says the NZTA.
I posted a summary of outcomes from last week's meeting of the Waipapa/Papanui-Innes Community Board.
Coming up:
September is going to be a busy time for Think Papanui and our local community – including:
A joint Community Board meeting (now being held in the Council Chambers) to consider feedback on the Council's proposed transport projects downstream of the Christchurch Northern Corridor;
A Council meeting that will consider the recommendation for traffic lights at the Harewood/Gardiners/Breens intersection;
Parenting Week
At least two 'meet the candidates' events;
Community events including a 'have a go' day at the Morrison Ave Bowling Club and a plant and seed swap at Papanui Library;
Voting papers for the local elections will be delivered from 20 September.
Keep an eye on all of Think Papanui's channels, including this newsletter, for updates on all of these.
Video available: This weekly news recap is published in video form on YouTube each weekend – you can find Think Papanui's YouTube channel at this link.
Feedback is always welcome on Think Papanui's content, either on Facebook or Instagram, or directly to me.
With warm regards
Simon Britten