Nominations for the 2022 local body elections have now closed and candidates have been confirmed.
Christchurch City Council: candidates for Papanui Ward Councillor are: Mike Davidson (Independent); and Victoria Henstock (Your Local Independent Community Voice).
Community Board: two candidates have put their names forward for two Papanui Ward positions so they will be elected unopposed: Simon Britten (Think Papanui); and Emma Norrish (Independent).
Canterbury Regional Council: almost all of Papanui Ward falls within ECan's North East/Ōrei Regional Constituency. Candidates for the two vacancies are: Tane Apanui (Rail and Simplified Transport); Ashley Campbell (Independent); Joe Davies (The People's Choice – Labour); David East (Independent); and John Knox (Independent).
Voting papers for the city and regional council elections will start arriving in enrolled voters' letterboxes from 16 September. People will have until midday Saturday, 8 October to return their completed voting papers. All enrolled voters can cast a vote for their preferred Mayoral candidate.
For more information on the City Council election see: https://ccc.govt.nz/elections
For more information on the Regional Council election see: https://www.ecan.govt.nz/elections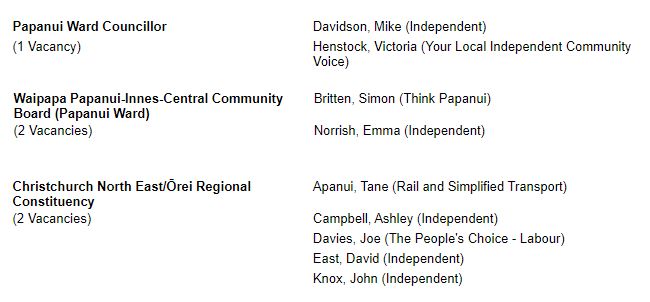 Source