Think Papanui's curator Simon Britten rounds up stories from the past week:
Last Saturday morning while out and about in Papanui Ward I saw contractors removing the closure on Rutland Street that had been in place since the water main blowout earlier in the week.
The Christchurch City Council is currently surveying residents on their views and experiences of travelling, in the latest in the 'Life in Christchurch' survey series.
I shared a story from the City Council's website promoting awareness of the upcoming local body elections.
Think Papanui's 'Papanui in Pictures' promotion closes in just over a week's time (21 July 2019). I've shared a gallery of some of the submissions received to date. Head to https://thinkpapanui.nz/photo to participate or to see more entries.
Applications are open now for 'Summer with your neighbours' – you can apply to Council for funding to support a local neighbourhood gathering. Applications close on 16 August.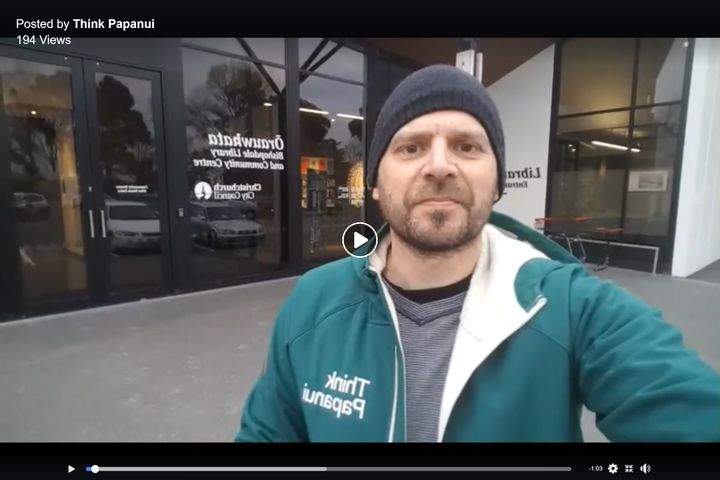 On Monday I attended another drop-in information session on the Council's draft Integrated Water Strategy. Once again this was very sparsely attended – I posted a brief live video encouraging people to attend, and subsequently have put up two posts asking for people's thoughts on the low turnout.
On Tuesday evening I attended Axel Wilke's Tuesday Club talk on transport emissions, climate change, and the Christchurch Northern Corridor.
I posted a photo of the southbound lane on Main North Road that's currently impacted by roadworks. This was top post of the week on Think Papanui's Facebook page. The lane drop doesn't appear to be causing too much disruption, thanks to the lighter school holiday traffic.
There was a Waipapa/Papanui-Innes Community Board meeting today (Friday 12 July). Earlier in the week I shared some highlights from the agenda – keep an eye out for a follow-up post in the coming week once minutes are available.
Over on Think Papanui's Facebook page I've launched a second 'what do you love about Papanui?' promotion, once again supported by Mitre 10 Mega Papanui. See the post for details of how to participate (closing date is 18 July 2019).
I've given ECan's upcoming Candidate Information Evening a mention – that's happening this Monday 15 July.

Earlier today I shared a photo showing construction progress at Kmart's future Papanui site in Langdons Road. The first walls are up on the next stage of the development.
Closing soon:
Coming up:
From 7pm this Sunday 14 July there'll be some night work happening on QEII Drive. Westbound traffic will be stopped at times during this work, which is planned to run through to 25 July.
This Monday the 15th of July the refurbished customer service desk at the Papanui Service Centre is due to open, with full NZ Post facilities available including vehicle transactions and bill payments.
Feedback is always welcome on Think Papanui's content, either on Facebook or Instagram, or directly to me.

With warm regards
Simon Britten